Tailor made solutions for returnable washing sterilizing and filling, one way keg filling and combi-line for multi-formats kegs (stainless steel, KeyKeg One-Circle, PolyKeg, PetainerKeg, Dolium, WorldKeg, etc…).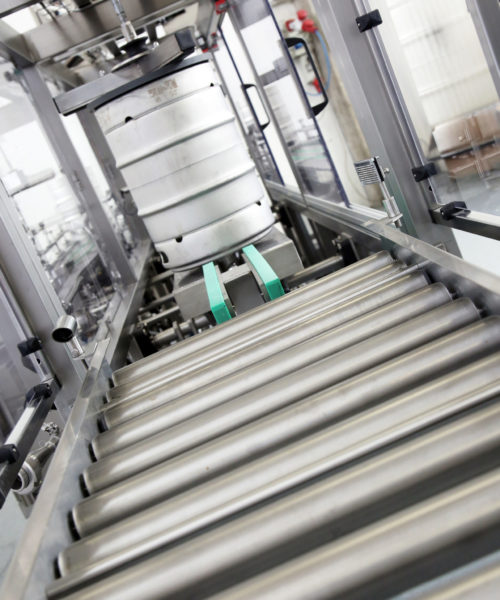 WSF-Keg Series
Washing sterilizing and filling machines for beer, carbonated soft drinks, wine, cider, etc. for 10/20/25/30/50 litres kegs capacity.
The machines are equipped with the option of choosing one of the following cycles:
Complete washing and filling cycle,
Washing cycle only,
Filling cycle only.
The automatic machines are available starting from the smallest 3 head unit having a production capacity of around 40-45 kegs/hour.
Our MODUL-KEG® solution includes two or more automatic modular WSF-KEG fillers allowing to satisfy the need for higher speed production (up to 1000 kegs/hour), and includes auxiliary equipment for full automation such as depalettising, external washing, conveying, automatic keg overturning, weight control, cap or seal applicator, CIP, palletizing, etc., custom built according to customer requirements.
One-Way Keg Series
Tailor made solutions to suit specific requirements on the One-Way Keg solutions available on the market today.
– Compact Footprint;
– Single and Twin head semi-automatic fillers;
– Multi head automatic filling lines;
– Fully programmable cycles.